The stunning German city of Leipzig is often referred to as the new Berlin. On the surface, Leipzig appears to be a small city but when you look further, you'll discover there's so much to experience here. From getting lost on its ancient streets to immersing yourself in the local culture, so here's our rundown of the best things to do in Leipzig.
Leipzig Square
The city center is built around the main square where you'll find street performers, shops, and plenty of nice bars and restaurants. There's even a local market held here twice a week on Tuesdays and Fridays. It's the perfect place to kick back and drink a few beers or try some traditional German Street food.
St. Nicholas Church
Just off from the main square, you'll find a few of Leipzig main attractions including the city's two famous churches. St. Nicholas Church has stunning interiors with pink columns, hand-painted ceilings, and beautiful clay work.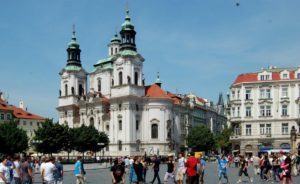 St. Thomas Church
A core part of Leipzig history is that it was home to the acclaimed music composer Bach. You will find his tomb inside St. Thomas Church and you can even take a tour of the Bach Museum over the road. In keeping with the Gothic architecture, Leipzig also hosts the world's largest gothic festival each year. The event takes place seven weeks after Easter, so it's always happening in spring. During this time, the city comes alive with music and character.
Coffee Baum
If you love coffee then you should check out Coffee Baum. This is Europe's oldest coffee shop. We recommend ordering their signature coffee farm special and trying the traditional local pastry treat called Leipzig lurch. You can also explore the small museum on the third floor for free and learn all about how coffee originally came over to Europe.
Panorama Tower
When you are done exploring the streets, head to the top of panorama tower. This is the highest building in Leipzig offering incredible views over the city. It's awesome to come up here and see everything with a bird's-eye view. They even have a restaurant that serves fine food if you are looking for somewhere romantic to dine.
Karli Road
Leaving the city center, there are plenty of things to see away from the crowds. The best way to get around here is by tram or by riding a bicycle. Karli Road is home to a selection of decent bars, beautiful street art, and hipster clothing stores. The area itself is pretty small, so you can easily check it out on your way to something else.
Johanna Park
We recommend exploring one of the many beautiful parks. The nature surrounding Leipzig seems to be endless so there's plenty of space to find a quiet spot to relax in.
Stadthafen
One of the best ways to experience the outdoors here has to be kayaking in the canals. If you take the number 14 tramp to west plots, it's only a short walk to the canals where you can hire a kayak for one or two hours. There's even a man-made beach bar here, so you can chill in the sunshine and enjoy a couple of drinks.
Galleries
Art lovers have to visit the Kunstkraftwerk and the Spinnerei galleries. There are currently four exhibits on at the Kunstkraftwerk but our favorite was the visible sound where you can play with lights sounds and optical illusions. The other exhibits are really interesting as well and you could easily spend a few hours here. The Spinnerei galleries are completely different. Originally built as a cotton mill in the 1800s, they have now converted them into a creative space where artists can live, create, and showcase their work. The site is home to many galleries, outdoor, and indoor cinemas and workshops.